Spring Garden
Artwork ©1990-2003 Stampin' UP!® All rights reserved.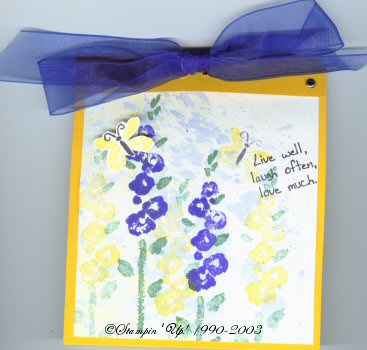 Marbled Pastels technique used for background

Close-up of flower marshmallows
Materials Used:
Sets:
Spring Garden
Ink Pads:
Classic Stampin' Pad-Brilliant Blue
Classic Stampin' Pad-Summer Sun
Classic Stampin' Pad-Garden Green
Classic Stampin' Pad-Basic Black

Cardstock:
Summer Sun Cardstock
Cardstock-Ultrasmooth White

Misc.
Hand-Held Rectangle Punch
Wide Organdy Ribbon-Royal Blue
Medium Flat Cellophane Bags
Mini Deco Fasteners-Silver
Stampin' Pastels
Marbled Pastels Technique
Take a small pan & fill with about 1/2" of cold water. Take desired chalk colors & scrape off a fine dusting on top of water starting with darkest color & ending with lightest.(I used Summer Sun, Brilliant Blue & Garden Green.) Take you cardstock & insert from one end of pan & pull it out the other end. Repat above steps for each new piece of cardstock. Dump water out & star with new for each color combination. Note: I find it's easie rusing a smaller pan & using 1/4 to 1/2 sheet of cardstock.