Stampin' UP!®'s - Hand-Painted Petites
Artwork © 2000 Stampin' UP!® All rights reserved.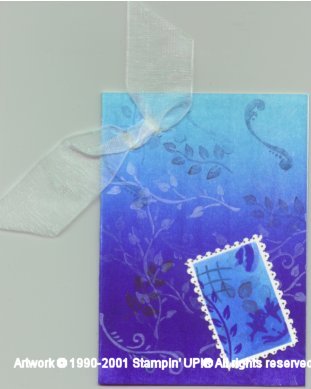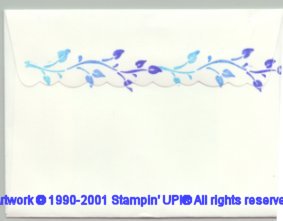 matching scalloped envelope
Materials Used:
Sets:
Hand-Painted Petites
Ink Pads:
Kaleidacolorô Blue Breeze, Colorbox® Frost White
Stampin' Write® Markers:
Night of Navy, Not Quite Navy, Brocade Blue, Ballet Blue
Card Stock:
Ultrasmooth White
Misc.
Gift Enclosures with Scalloped Envelopes-Ultrasmooth White, White Organdy Ribbon
Notes:
Faux postage made on computer with Microsoft Publisher 2000 & printed on US white. Image is masked with removable tape before applying background colors off the Kaleidacolorô pad with a sponge.